Kathmandu A Day Tour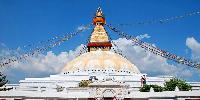 Nestled in the mid-hills of Kathmandu Valley is a wealth of medieval art and architecture. Its profusion of Hindu pagoda temples, grand Buddhist Stupas and artistic palace squares are the major sights to be explored. They provide the setting for a vibrant culture marked by deep religious devotion.
Getting around the valley on foot would be an exciting experience for those who want to explore the natural and man-made beauty and traditional life of the local people. Your day trip begins after breakfast in hotel. You pack up your day bag and walk to Thamel- a very busy business center where you will find lots of market stalls, restaurants, bars, banks, money changers and massage centers all within walking distance.
Just around the corner from Thamel you will find the lovely \'Garden of Dreams\' with superb gardens and equally superb cafe where you can sit and overlooking the garden, fountains and ponds in an enclave of peace from the city. This garden is highly recommended to the visitors.
Your next destination will be Kathmandu Durbar Square and its surrounding packed with multitude of temples, palaces and the residence of living goddess-Kumari. Much of the Kathmandu city is now relatively modernized by Nepalese standards, its ancient spirit is still alive. The square is a thriving place where local people come to congregate, to sell handicrafts, to worship or just to sit around together. It is a very social place. When you visit, you will be first struck by the number of temples, all at close proximity to each other. Each temple you will see in and around Kathmandu Durbar Square represents some of the more powerful, all en compassing and popular Hindu Gods.
After Kathmandu Durbar Square we will take you to Pashupatinath temple that lies just 3 km to the south. This is the place of pilgrimage for Hindus. Many Nepalese and Indian pay a visit to this temple. In the Pashupatinath complex you will find a hive of temples, monuments dominated by its devotion to God Shiva (in his Rejuvenat or form) and a last resting place for many, a prelude to death and perhaps the optimism of reincarnation.
Saddhus bearded men, with ash colored foreheads and simple robes- ascetics who have relinquished everything- walk around the temples, some posing for photographs and money. Around the labyrinth of temples and shrines, there are closed buildings: places where the sick and elderly wait, many will be brought to the river within minutes of death, nowadays the river is little more than a wide stream.
After Pashupatinath temple we head towards Bouddhanath, the world\'s biggest Stupa and a place of pilgrimage for Buddhists, many still come from Tibet, India and Bhutan. Thousands of Tibetan refugees live here and around the Stupa many handcrafted shops selling Tibetan souvenirs and trinkets as well as wonderful hand painted wall hangings (known as Thankas) by Buddhists monks. The Stupa itself is so big then you can walk on it and many do the same. Hundreds of prayer flags hang from twine stretched across the central tower and in the distance. On a clear day the golden roofs of the surrounding temples can be seen framed by the Himalaya.
You can watch humbly dressed Tibetans circling the Stupa as an act of prayer. You might see some Tibetans prostrating: sliding along on their stomachs and hands or spinning hand-held prayer wheels in an act of meditation. Surrounding the Stupa are small Buddhists temples and monasteries.
After having lunch you will continue your day trip to Swoyambhunath which lies on the top of a hill to the north. It is one of the most iconic and photographed symbols of Nepal. This Stupa is a white domed Buddhist shrine or reliquary (a reliquary is a vessel in which holy objects are stored) and buried inside it. Inside the solid white concrete dome are relics of a deceased high Buddhist teacher or Lama. The 1,500 years old Stupa might contain a Lama\'s clothes, simple possessions or even parts of the body or ashes. Many people from all over World visit this pilgrimage shrine. What you are experiencing here is not only a shrine, but an architectural symbol of the very essence of Buddhism and the path to enlightenment.
The Stupa is built in a symmetrical design which is meant not to a cosmic map or of the planets, but of the Buddhist\'s mind\'s journey, through its own universe and into a perfect state, one of true contentment and happiness- a nirvana. Buddhists believe that by following this path (the map of the Stupa), one can remove oneself from human bondage, from the \'tyranny\' of the human condition, and through meditation and teaching put an end to personal suffering, find true meaning of existence, and be truly happy and content.
On the way to Swoyambhunath Stupa you will see the monkeys and market vendors, hundreds of colorful prayer flags fluttering gently in the wind. The breeze carries their prayers up into the heavens. Because of the many monkeys Swoyambhunath Stupa is referred to as the Monkey\'s temple.
Most of the Stupa is painted masonry white but the four sides of the tower hold the omniscient eyes of Buddha. The eyes watch over the universe, and the symbol between them is the third eye which allows one to see beyond, and inside the Self. The figure in the position of the nose reminds to people that only way for them exists to salvation.
After the tour we get back to our hotel and stay overnight.
Explore three historic medieval cities and Newari culture of Kathmandu, Bhaktapur and Lalitpur. Begin your journey to all major culturally and historically important world heritage sites in Kathmandu [ view ]
Contact Address:
Corsa Nepal Adventure Pvt. Ltd.
P. O. Box: 25242, House No: 495 15/78
Chaksibari Marga,Thamel, Kathmandu, Nepal
Tel:
+ 977 1 4700 459, 977 1 4701 041
24/7 Emergency Contact:
+ 977 98510 21 716
Email:
Skype:
corsanepal
Website:
www.corsanepaladventure.com